In memory of our good friend
and band mate
Steve Morenzi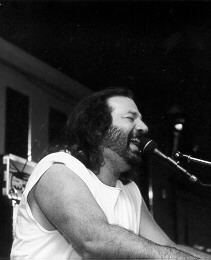 October 31, 1956 - November 26, 2000

---
This page is dedicated to the memory
of our good friend and keyboard
player Steve Morenzi.
It will remain
here as long as The Senders continue
to Rock & Roll
Please feel free to send us a story, a picture of Steve or even a simple comment.
---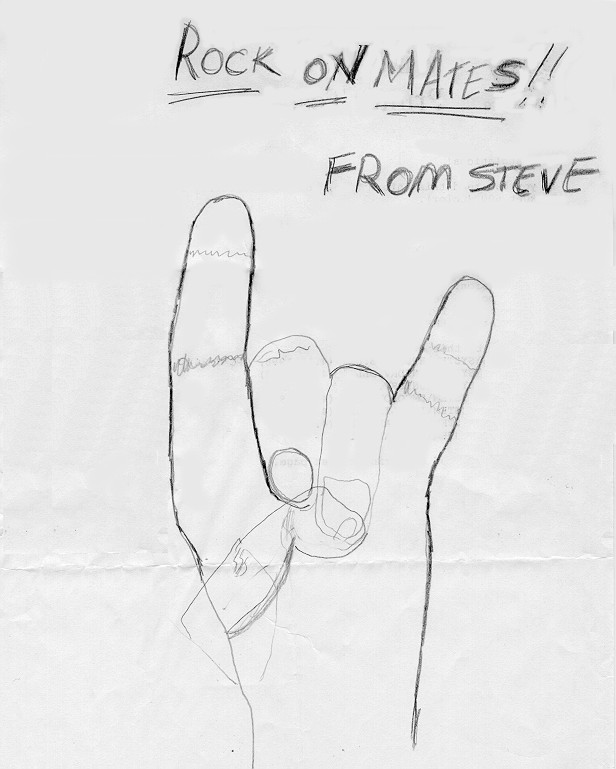 Steve created this drawing and gave it to us in the summer of 2000. His spirit for the band
and his music was second to none.

---
Send "Steve" stories to:
Steve Memories
---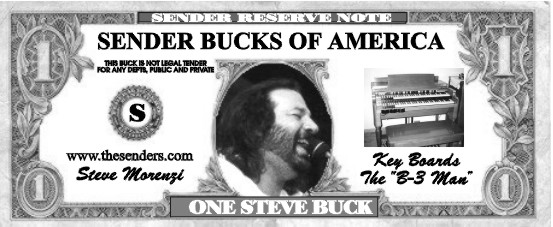 Steve was so excited that he had his own "Sender Buck"
It was presented to him on Wednesday November 22, 2000.
---
posted: Nov 23, 2010
My name is Dave Evans. I had the pleasure of being a friend of Steve's as well as being a roadie for him during his years he played with Nasty Habits. Steve joined our band in the mid 80's. I worked with Nasty Habits from 1983 until 2003. The band had a number of musicians over the years but, only a few had the humor and charisma Mr. Morenzi possesed. Steve and I had many nights that were filled with us trading war stories and sharing our love of music. One of my best gigs as a roadie was one night years ago when Ellery Street opened up for The Outlaws at J.R's Fastlane. I was the sucker .. ooopss, I mean friend that helped lug his B3 and Leslie cabinet out of the basement in his house, up a flight of stairs, across his breezeway and into his van. Do real friends go through this for a friend?
It took the two of us plus 4 others inside the club to hoist his setup on the stage. It was worth the trouble. The sounds Steve created has no equal. Greg Allman not withstanding.
Steve was a true musician and friend. My heart aches still that he is not with us. His spirit and humor will last forever for those of us that had the pleasure of knowing him and his wife Rita.
I am in the process of writing a book and I have a chapter that encompasses my friendship with the keyboard and laser man. While writing, my mind flashed back to the fart sounds he reveled in creating on his keyboard. We were like little kids with a new toy.
The local music scene lost a great musician. Those of us that enjoyed his craft will one day hopefully be blessed with his playing as we enter the Pearly Gates. I hope to hear "Own Way To Rock" and "Olneyville".
---
Steve's Good Humor
Two weeks prior to Steve's passing, I was speaking to him on the phone about life. At the time, Steve was obviously very ill. However, his spirit was alive and well. He talked about his connection with God and about returning to the band. It was clear by the sound of his voice, and how slow he was talking he wouldn't be returning any time soon...if at all. After about 15 minutes, we said our goodbyes. I was very sad at that point. About 10 minutes later my phone rang...it was Steve. He said "Dave...I forgot to tell you something" (my heart dropped to my stomach expecting some bad news) He said "you've gotta check out this web site I found. It's called createfarts.com/." I started laughing and I expressed my appreciation for his good sense of humor. I did go to that site after we hung up and what a laugh I had. Even now it brings a bit of a smile to my face when I think about it. I miss you Steve.

David Lema - The Senders
---
11-26-01
When ever I would call Steve and ask him how he was feeling he always respond "Ooooh I can't complain" then he'd laugh. He always would find away to make you feel so good even when he was physically feeling so bad. Even though Steve's illness was robbing him of his very very gifted talents, and physical abilities that God blessed him with, Steve never ever ever complained! Steve's faith, courage, sense of humor and his ability to put others in front of him was something that couldn't be measured. It clearly and truly was a thing of beauty. One time I had asked Steve, when you get better, what would you do different with your life, and what wouldn't you do? He said wow Dannyboy that's a great question, how did you come up with that one, then he laughed. Let me think about it, and I'll call you back. Five minutes later Steve called me back, O.K. I have the answers Dannyboy. "If I get better what I wouldn't do is, if someone told me that I had to do something that I didn't want to do, like sing a stupid song that I didn't like I wouldn't do it. I just wouldn't do it. The thing I would like to do different is, If I seen a kid in a playground that was cold and didn't have a jacket I would go to BOB,S and get him a nice new Nike jacket and give it to him and watch his smile, and then just drive away. In general I would just help people out that needed a helping hand the best I could. Because I truly think that life is not what you got but what you give". Steve never got better, but I hope he knows how much he truly gave to each and everyone of us.


So goodbye for now my friend.
I love you, miss you, and you'll always be in my heart.
Your pal Dannyboy 11-26-01


11-26-01
Memories of Steve pop up everywhere...when I'm listening to the radio
and one of "Steve's songs" is playing (like J.Geils,etc)...suddenly he's
right there next to me(on stage) hammering that B3, making it talk.....(this
is eerie!......as I am writing this...HJY is playing ("Freeze Frame")
whoa.......thanks,Steve.....You will always be a practical joker!

Then there's the late-nite-sitting-at-home-channel-surfing....I find
new products like "cat shampoo with bleach" or cellular-fry pans (used to
call someone who knows how to cook) or the "Ronco Pen Sharpener" complete
with unlimited supply of pens. These remind me of all the "useful" products
Steve would have invented...I'll never forget...what a sense of humor!
Rest in peace ,Steve, and "Rock on mate"
Paul
---
11-26-01
Today is a sad day indeed. My spiritual beliefs encourage me to celebrate Steve's life, and I believe that I do. However, it doesn't change the emptiness I continue to feel when I think about Steve. I do hold on to the special feeling I have, knowing that it was a blessing having had the opportunity to know Steve and be his friend. Steve's spirituality was beautiful and selfless. Life is full of twists and turns and we never know what tomorrow will bring. That is why I try to make each and every day count. Steve taught me that. I will be forever grateful.
~~David~~
---
My name is Arthur Parrillo. Steve Morenzi and I became good friends back in the seventies. A few years ago I came across this picture from our electronics school graduation dinner. I remember emailing it to Steve for a
laugh. It's kind of ironic in that Steve doesn't have a beard, and I have enough for the both of us, and then some. I call it my wolf man look! After Steve passed away I was looking at your web site and I remembered this
picture.

It's interesting how this journey of life presents itself. I actually knew Steve's father "Red" long before I ever met Steve. He used to help out at "Bumps", a bar in Cranston. Even after I met Steve I had no idea his father
was bringing me beers and stuffies on Friday nights. Once, some time after I became aware that Red was his father, I was talking to him about Steve. He spoke about how talented and energetic Steve was, but was concerned that he was spending too much time playing around with music and organs.

Well, I think we know how well that "playing around" turned out for Steve, and as far as his energy and talent goes, the sky was the limit. I often envied his ability to take risks and go that extra mile for something he
really believed in. When he started his laser company I wasn't surprised at all.

One day I visited him at his business and I remember him saying, "Hey Art, check this out…". He turned on one of the laser machines and in a few seconds it etched out on a piece of metal a perfect rendition of a
B3 organ!

This is how I will always remember him, full of zeal for life, and always there with a helping hand whenever you needed it. He was a true friend, and is truly missed.

Arthur Parrillo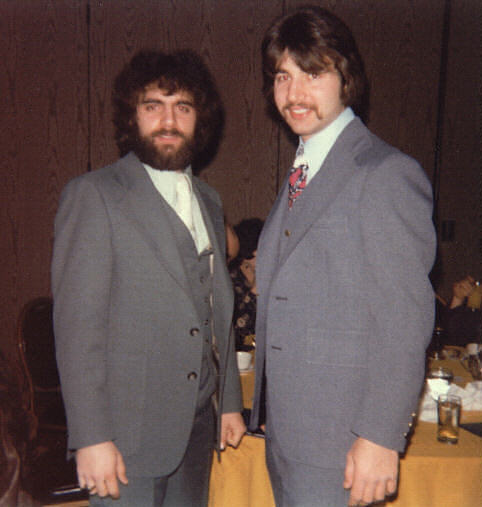 ---
3-20-02
I was just browsing the web page, hadn't been there in a couple of months, and I was checking out Steve's Page. Awesome tribute. I do have something to add to the page if you would:

I was on the phone one night in the spring of 2000, finally getting in touch with someone I had been trying to talk to all day, and my two brothers were yelling for me to come upstairs there was someone there to see me. I was going to be a couple of minutes more, but they were still yelling. Then mom came into the office and said, whoever it is, you better cut it short, this is important. So, a bit frustrated that no one would tell me who it was, I cut my conversation short and headed upstairs, and was saying as I headed up, "OK, what is so important?" As I turned the corner into the kitchen, I saw what was so important - there was Steve Morenzi standing in my kitchen! (He knew where we lived, he had only lived a couple of streets over with his wife.)

Obviously, I was so happy to see him, I grabbed his hand and gave him a big hug. He explained that he and his father passed by the house all the time and he would drive his dad, Red, crazy always saying he wanted to stop in and say "hi" and then say "no, I don't want to bother them" or " I don't think anyone is home". I was so happy that his dad took matters into his own hands and said "that's it, we are stopping and you are going up to that
door this time, and that's it!"

I had dropped Steve e-mails from time to time, but this was very special. Here was this man, with so much going on with himself, so sick , and HE WAS VISITING US!! I was just blown away by that fact, but then that was Steve Morenzi. My brothers didn't know him, but they could tell that this man was someone special to mom and I and they truly felt they knew him much better after that little visit. I truly felt special that night to know that Steve cared enough to stop in to see how we were doing.

That was the last time we saw him before he passed and that special visit will always stay with me for as long as I live.

Rest in Peace My friend and remember, the door is always open for you...............

Steve Marchesi
---
7/14/07
Before joining the Senders, I knew Steve through some mutual friends -- but I can't say I knew him really well. Later, I knew he was with the Senders, but I was always gigging with another band, so I never got to see the Senders. I also knew Dan, Paul and then-drummer Marty, from other bands.
When I finally had a chance to get out and see the Senders (having left my other band), the thing that always got me is that Steve would somehow notice me in the crowd, and when the band took a break he was the first one to come over to me, and he'd start talking to me as if we were long-lost friends. Somehow, you just felt at home with Steve. I always found myself opening up and telling him some heavy, personal things. And he'd listen to every word as if it mattered to him. I think that's just the kind of guy he was -- very intense, very direct and very caring. And he sure was a funny guy.
When I heard that Steve had passed away, I was really depressed. I cut his obituary out of the paper and kept it in my wallet. I was really pissed when I lost that wallet, and hoped that it might turn up. Instead, something else happened: I was asked to try out for the Senders, as Chris Wheeler was leaving the band. I knew the guys were looking for someone who could play keyboards, which was not my main thing. I consider myself to be a bit of a hack on the keys. I wondered how the hell I could ever fill Steve's shoes. In fact, there was absolutely no way at all to fill his shoes, or the "space" he left behind. Steve was an extraordinary person... and one of the best keyboard players your ears would ever hear.
When the Senders decided to let me in, I felt both honored and humbled. I remember the very first gig I did with them, and all I kept thinking about is that I was standing in the spot Steve once stood in. I know Steve loved being in the Senders, and I certainly know why. Dave, Paul, Dan and the "new kid", Saint, are some of the finest human beings you could ever be associated with. I always hoped Steve would approve of me being with his mates. Being a Sender now for 5 years makes me think he would have approved. I know I'm grateful to the guys for giving me a chance to be a part of the Senders. And I'm grateful that I had the chance to know, chat with, and laugh with Steve.
Mike Gabriele
---
May 9, 2008 You know it was one of those days today. I was just drivin and J. Giels came on "Must ta got lost" and we were back at Brandywines on South Main Street. I can see the white Leslie behind Steve with the two horns spinnin. My god I miss all you guys, I wish I could do it all over again, just so I could see Steve again. I hope you are all well. I'm so sorry Rita.... The Ellery Street Band Forever
Bob Dunning
---
June 20, 2008 I used to hang and work at Backstreet's Bar and Grill in providence when I was a Student at J&W from '83 to '87. Backstreets was a small joint that could barely fit a stage. there were only 2 bands that would get the students excited. One was a band a few of the students formed and the other was Ellery Street. Man, could those guys rock! We are currently forming our 20th reunion and I googled Ellery Street in hopes that we could see them once again. I am so sad to read this. I knew Steve in passing and we probably spoke short sentences 40 or 50 times, and i gotta tell ya, nothing but smiles from the guy! My late condolences but rest assured, there are many, many former J&W students that enjoyed not only his music but his presence. They will all be saddened by his departure. Neil "Animal" Aubuchon. Class of 1987 Johnson & Wales. Neil Aubuchon (Los Angeles, CA)
---
The Penguin Ball 1998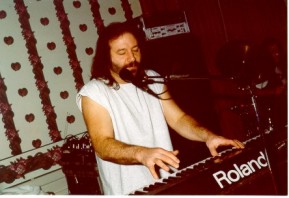 ........................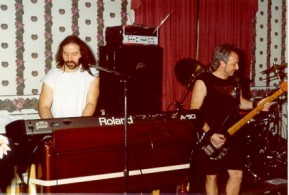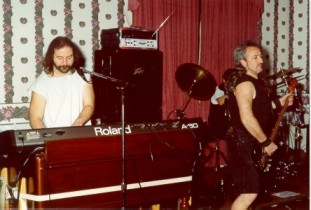 .....................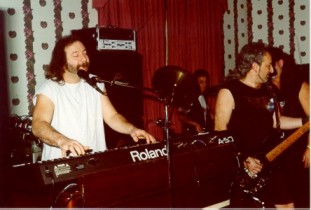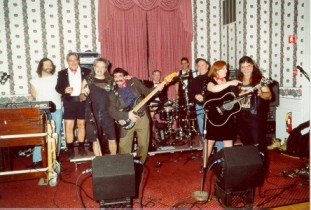 ...........................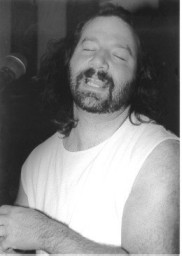 ---
(CONCERT TICKETS, LIVE RADIO {From around the world} REVIEWS & FEATURES)
EVENTS & FESTIVALS, STORE